1 Event Gold
RM1150
5 Hours (Max) Service
1 x Principal/Senior Photographer
1 x Album Box / Slipcase
1 x Photo Frame 12" x 18" (inch)
All Photos via Google Drive
Same Day Outdoor Session Included
2 Events Gold
RM2050
10 Hours (Max) Service
1 x Principal/Senior Photographer
1 x Album Box / Slipcase
1 x Photo Frame 12" x 18" (inch)
All Photos via Google Drive
Same Day Outdoor Session Included
3 Events Gold
RM2950
15 Hours (Max) Service
1 x Principal/Senior Photographer
1 x Album Box / Slipcase
1 x Photo Frame 12" x 18" (inch)
All Photos via Google Drive
Same Day Outdoor Session Included
1 Event Platinum
RM1650
5 Hours (Max) Service
2 x Principal/Senior Photographers
1 x Album Box / Slipcase
1 x Photo Frame 12" x 18" (inch)
All Photos via Google Drive
Same Day Outdoor Session Included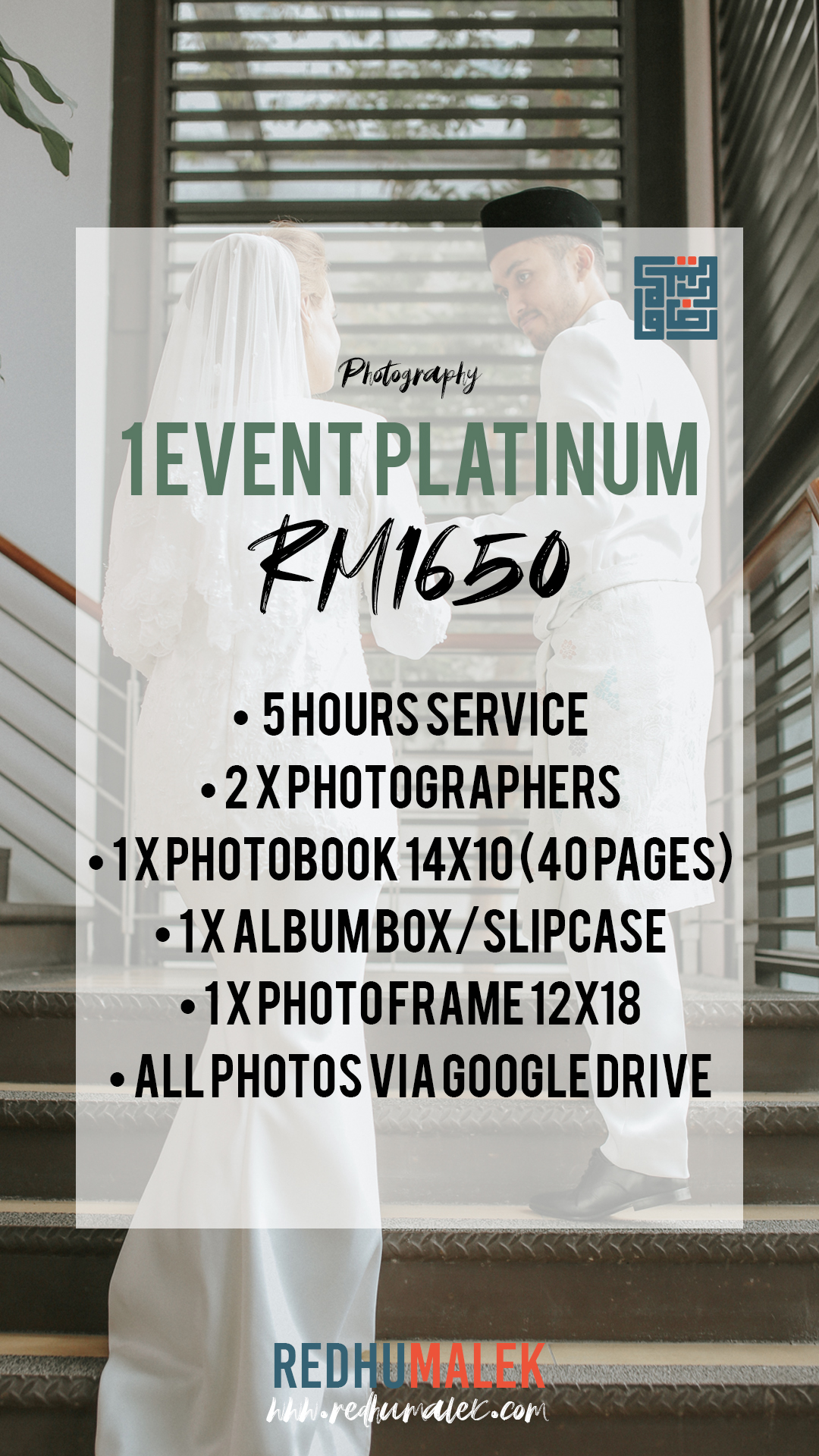 2 Events Platinum
RM3050
10 Hours (Max) Service
2 x Principal/Senior Photographers
1 x Album Box / Slipcase
1 x Photo Frame 12" x 18" (inch)
All Photos via Google Drive
Same Day Outdoor Session Included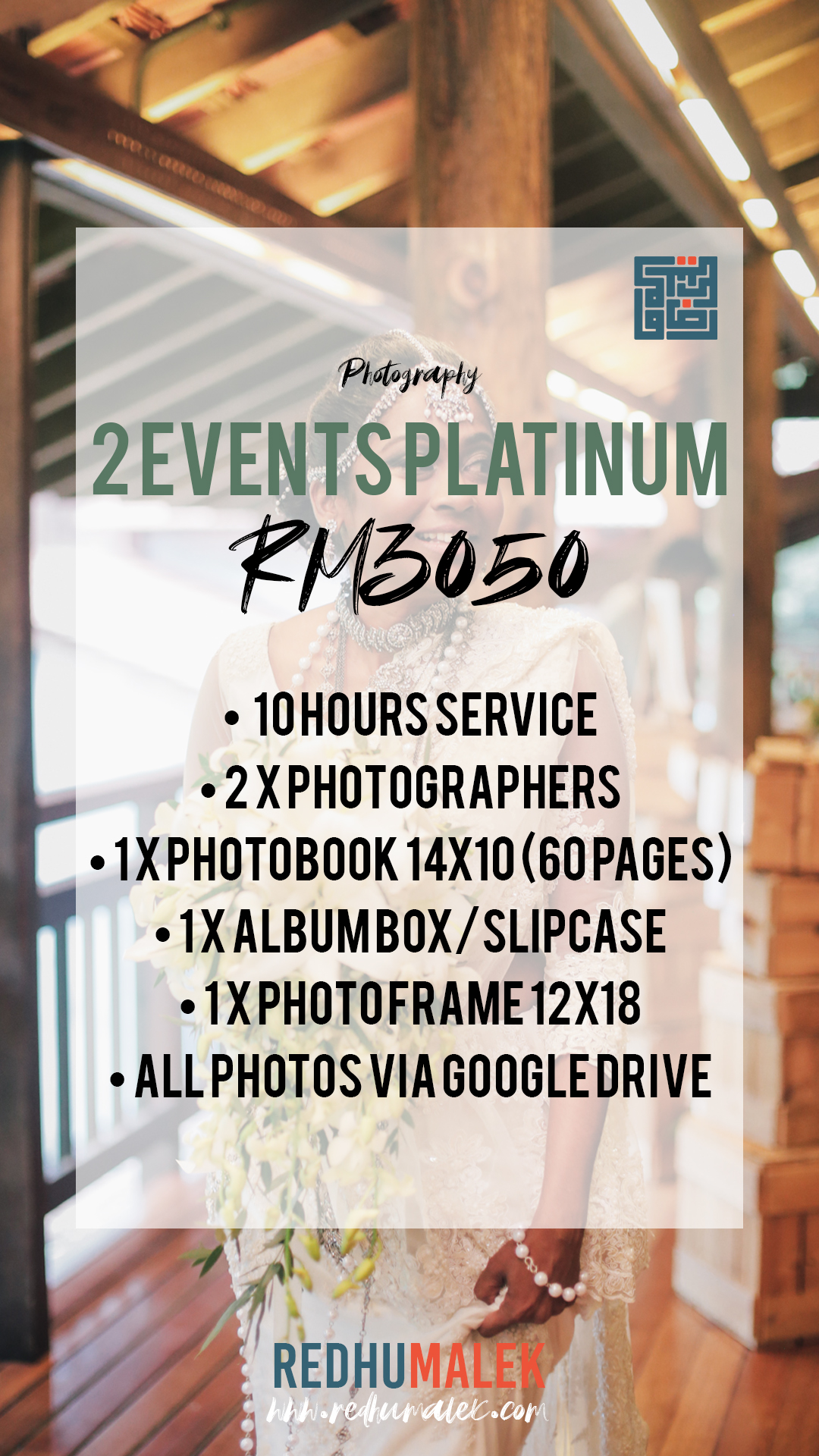 3 Events Platinum
RM4450
15 Hours (Max) Service
2 x Principal/Senior Photographers
1 x Album Box / Slipcase
1 x Photo Frame 12" x 18" (inch)
All Photos via Google Drive
Same Day Outdoor Session Included
---
Optional Add-On:
+ 1 x Extra Photographer : +MYR500 per event
+ 1 x Exclusive Pro-Series Photobook Hardcover 14" x 10" (inch) – 40 pages + Slipcase : +MYR500
+ 1 x Exclusive Pro-Series Photobook Hardcover 14" x 10" (inch) – 60 pages + Slipcase : +MYR750
+ 1 x Exclusive Pro-Series Photobook Hardcover 14" x 10" (inch) – 80 pages + Slipcase : +MYR1000
Pre-Wedding / Post Wedding / Outdoor Session : +MYR450 for 3 hours session (Shoot & Burn)
Live Update to FB / Instagram / Twitter : +MYR500 per event (1 manpower)
Same Day Editing (SDE) Photo Slideshow (3 – 5 minutes) : +MYR200
(Slideshow of an event that client wishes to be played on the next day is considered as 'Same Day Editing')
---
* Terms & Conditions:
1. Booking deposit is 20% from the quotation price. Balance 60% must be paid before the event day while the other 20% must be paid during delivery.
2. Booking deposit will be forfeited if the customer makes a cancellation.
3. Booking date will be confirmed after the booking deposit is made.
4. Price stated is not including traveling cost (mileage fees: MYR0.50 per KM, accommodation fees: MYR200 per night ) – if applicable.
5. Extra hours needed will be charged MYR150 for 1 hour, MYR300 for 2 hours, and MYR450 for 3 hours.
6. Free Outdoor/Indoor Portraiture Session is valid only on the same day as the event.
#achievement #akadnikah #album #artistic #artistik #awards #bajet #batuferringhi #bayanbaru #bukitayun #chinese #christian #church #cinematographer #cinematography #cmco #enderong #fotografer #fotografi #gambar #garden #hantaran #indian #jandabaik #johor #jurugambar #kahwin #karambunai #kedah #kelantan #kem #kepalabatas #kl #klang #klcc #kotakinabalu #kualalumpur #kulim #malay #malayphotographer #malaysia #malaywedding #malayweddingguide #melaka #melayu #murah #negerisembilan #nexus #nikah #outdoor #pahang #parkroyal #pelamin #penang #perak #perkahwinan #perlis #petalingjaya #photobook #photographer #photography #pkp #pkpb #pkpp #poruwa #postwedding #prewedding #pulaupinang #reception #resepsi #sabah #sanding #says #selangor #serimalaysia #sg #sgd #sgpetani #sgwedding #shahalam #singapore #singaporewedding #singapura #sinhalese #solemnization #srilanka #subangjaya #tanarimba #tandang #tentera #terengganu #top10 #unclekay #unitedstates #usa #videografer #videographer #videography #wedding #weddingdais